OPINION
Actual science is discrediting the apocalyptic fantasies of 'climate change' cultists
---
Scientific studies and polls demonstrate just how insane and unpopular the ideas of Greta Thunberg and her doom cult chums are.
Greta ThunbergYouTube screenshot
---
Fri May 12, 2023 – 1:25 pm EDT
Listen to this article
0:00 / 6:381X
(LifeSiteNews) — Following news that eating the bugs is no good for you after all, a surprising announcement from the governor of the Federal Reserve throws more red meat to the reality-based community.
In his May 11 speech, "Climate Change and Financial Stability," Federal Reserve Governor Christopher J. Waller opened with this:
Climate change is real, but I do not believe it poses a serious risk to the safety and soundness of large banks or the financial stability of the United States.
Speaking to a to a conference in Madrid, Spain, he expanded his remarks with a statement on his personal duty:
Risks are risks … My job is to make sure that the financial system is resilient to a range of risks. And I believe risks posed by climate change are not sufficiently unique or material to merit special treatment …
Frank on the Issue
I too think climate change is real. The climate has never been a stable system, and the actions of mankind in altering it have been negligible. Man-made climate change and the danger it represents is a case made on falsified data and dishonest models. It is a cult, and one which wishes to collapse civilization and destroy your freedom to preserve itself.
The greatest risk to the climate at present is the escalation to nuclear war, which the green and globalist doom cults enthusiastically support.
READ: Climate dictatorship and drag queen story hours are coming to Europe
For example, German Green Party member and Foreign Minister Annelena Baerbock unilaterally declared war on Russia in January, being generously described as "insane" as a result.
These people are obsessed with realizing their apocalyptic fantasies.
A Bad Month for Greta
It has not been a good month for Greta Thunberg — or any of her doom cult chums. Alongside the Fed's recognition that man-made climate change is irrelevant to any sensible assessment of the life of the nation, recent studies have shown net zero support in Europe for any drastic measures to fight the weather.
A May 1st report featured in The Guardian clearly demonstrated the absence of any public support for the removal of meat and the refusal to have children.
As The Guardian put it:
Measures entailing no great lifestyle sacrifice were popular, with between 45% (Germany) and 72% (Spain) backing government tree-planting programs and 60% (Spain) and 77% (UK) saying they would grow more plants themselves or were doing so already.
In simple terms, sane ideas were popular — and the crazy ones were not. This is a profound disappointment to everyone who bases their life upon grotesque fairy tales.
This is no surprise to anyone who likes real food and loves children. Normal people are not shocked by the suggestion that highly processed fake meat, with its 30 additional chemical additives, is about as nourishing as the fake news media which promotes it. It is not better for the planet than non-intensive cattle rearing, and it is made out of trash.
In case you need any more evidence for this obvious claim, which can be supported by looking at almost any vegan, here is another helpful image which combines the societal and personal significance of livestock-based foods.
Following the Science
According to The Science, which seems to be feeling a little unsettled, eating the bugs might not be the best thing for you after all.
A group of scientists behind nine research papers published in the April issue of Animal Frontiers took to the press this month to announce that "red meat is essential to human health," saying its withdrawal from diets would especially harm children, women, and the elderly.
A New York Post report on the subject on May 1st noted that the scientists stressed the need for a diet including meat, dairy, and eggs, and urged a pushback against the meat-free zealots.
Hundreds of scientists have banded together to blast the push to adopt a plant-based diet, arguing that meat is critical to a well-balanced diet — and warning against villainizing carnivores.
In an effective dismissal of the plant — or insect based — diet as a middle class fad, it warned:
Well-resourced individuals may be able to achieve adequate diets while heavily restricting meat, dairy and eggs.

However, this approach should not be recommended for general populations.
The hundreds of scientists involved backed a statement warning of the dangers of the kind of forced farm closures threatened in the Netherlands, Belgium, and elsewhere.
READ: Biden admin proposes restrictions on dishwashers to fight 'climate change'
The initiative argues that livestock systems are "too precious to society to become the victim of simplification, reduction or zealotry."

"These systems must continue to be embedded in and have broad approval of society," the declaration says.
Happily, The Science appears to be in the process of becoming science once more. It is noticing what is there, instead of modeling what is not.
— Article continues below Petition —
Tell G20 to drop radical climate policies causing inflation and blackouts
Show Petition Text
11409 have signed the petition.
Let's get to 12500!
Add your signature:Country…USACanadaAaland IslandsAfghanistanAlbaniaAlgeriaAmerican SamoaAndorraAngolaAnguillaAntarcticaAntigua and BarbudaArgentinaArmeniaArubaAustraliaAustriaAzerbaijanBahamasBahrainBangladeshBarbadosBelarusBelgiumBelizeBeninBermudaBhutanBoliviaBosnia and HerzegovinaBotswanaBouvet IslandBrazilBritish Indian Ocean TerritoryBrunei DarussalamBulgariaBurkina FasoBurundiCambodiaCameroonCape VerdeCayman IslandsCentral African RepublicChadChileChinaChristmas IslandCocos (Keeling) IslandsColombiaComorosCongoCook IslandsCosta RicaCote D'IvoireCroatiaCubaCuracaoCyprusCzech RepublicDemocratic Republic of the CongoDenmarkDjiboutiDominicaDominican RepublicEcuadorEgyptEl SalvadorEquatorial GuineaEritreaEstoniaEthiopiaFalkland IslandsFaroe IslandsFijiFinlandFranceFrench GuianaFrench PolynesiaFrench Southern TerritoriesGabonGambiaGeorgiaGermanyGhanaGibraltarGreeceGreenlandGrenadaGuadeloupeGuamGuatemalaGuernseyGuineaGuinea-BissauGuyanaHaitiHeard and McDonald IslandsHondurasHong KongHungaryIcelandIndiaIndonesiaIranIraqIrelandIsle of ManIsraelItalyJamaicaJapanJerseyJordanKazakhstanKenyaKiribatiKuwaitKyrgyzstanLao People's Democratic RepublicLatviaLebanonLesothoLiberiaLibyaLiechtensteinLithuaniaLuxembourgMacauMacedoniaMadagascarMalawiMalaysiaMaldivesMaliMaltaMarshall IslandsMartiniqueMauritaniaMauritiusMayotteMexicoMicronesiaMoldovaMonacoMongoliaMontenegroMontserratMoroccoMozambiqueMyanmarNamibiaNauruNepalNetherlandsNetherlands AntillesNew CaledoniaNew ZealandNicaraguaNigerNigeriaNiueNorfolk IslandNorth KoreaNorthern Mariana IslandsNorwayOmanPakistanPalauPalestinePanamaPapua New GuineaParaguayPeruPhilippinesPitcairnPolandPortugalPuerto RicoQatarRepublic of KosovoReunionRomaniaRussiaRwandaSaint BarthelemySaint HelenaSaint Kitts and NevisSaint LuciaSaint MartinSaint Pierre and MiquelonSaint Vincent and the GrenadinesSamoaSan MarinoSao Tome and PrincipeSaudi ArabiaSenegalSerbiaSeychellesSierra LeoneSingaporeSint MaartenSlovakiaSloveniaSolomon IslandsSomaliaSouth AfricaSouth Georgia and the South Sandwich IslandsSouth KoreaSouth SudanSpainSri LankaSudanSurinameSvalbard and Jan Mayen IslandsSwazilandSwedenSwitzerlandSyriaTaiwanTajikistanTanzaniaThailandTimor-LesteTogoTokelauTongaTrinidad and TobagoTunisiaTurkeyTurkmenistanTurks and Caicos IslandsTuvaluUgandaUkraineUnited Arab EmiratesUnited KingdomUnited States Minor Outlying IslandsUruguayUzbekistanVanuatuVatican CityVenezuelaVietnamVirgin Islands (British)Virgin Islands (U.S.)Wallis and Futuna IslandsWestern SaharaYemenZambiaZimbabweNot Collected
Keep me updated via email on this petition and related issues. Sign this Petition
Collapsing into A Fantasy World
The Science was often invoked to promote a future pollution-free utopia. Unfortunately for The Science, the models for the future green society were complete fabrications.
Thanks to the work of Mikko Paunio, featured on video and in print on LifeSiteNews, we know these models will never produce a "circular economy" free of waste. Instead, thanks to them, we would not have one at all. The obvious result of using fever dreams as a map of the future would be the collapse of civilization.
The news that the Federal Reserve has banished the concerns of this cult to the margins is therefore welcome. It is to be hoped we can expect to see more attempts by state level actors to reconnect their policies with reality. Reality is a popular theme for the normal people who inhabit it.
In this regard, the closing remarks of the Governor of the Federal Reserve were encouraging — doing something to redeem an institution which has hardly covered itself in glory.
Based on what I've seen so far, I believe that placing an outsized focus on climate-related risks is not needed, and the Federal Reserve should focus on more near-term and material risks in keeping with our mandate.
They also suggest a vestigial memory of that old civic virtue — duty. What precious things to which we can awake, when the nightmares are dispelled.
TOPICS
TAGGED AS
Wrong Again: 50 Years of Failed Eco-pocalyptic Predictions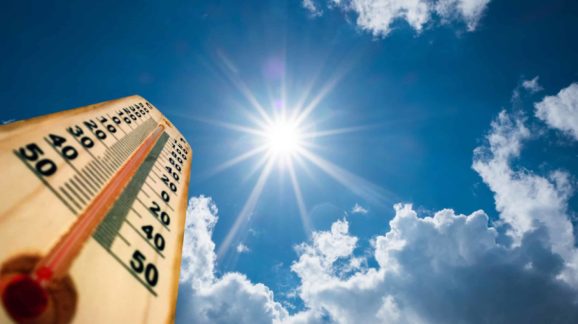 Photo Credit: Getty
Thanks go to Tony Heller, who first collected many of these news clips and posted them on RealClimateScience.
SUMMARY
Modern doomsayers have been predicting climate and environmental disaster since the 1960s. They continue to do so today.
None of the apocalyptic predictions with due dates as of today have come true.
What follows is a collection of notably wild predictions from notable people in government and science.
More than merely spotlighting the failed predictions, this collection shows that the makers of failed apocalyptic predictions often are individuals holding respected positions in government and science.
While such predictions have been and continue to be enthusiastically reported by a media eager for sensational headlines, the failures are typically not revisited.
1967: 'Dire famine by 1975.'
Source: Salt Lake Tribune, November 17, 1967
1969: 'Everyone will disappear in a cloud of blue steam by 1989.'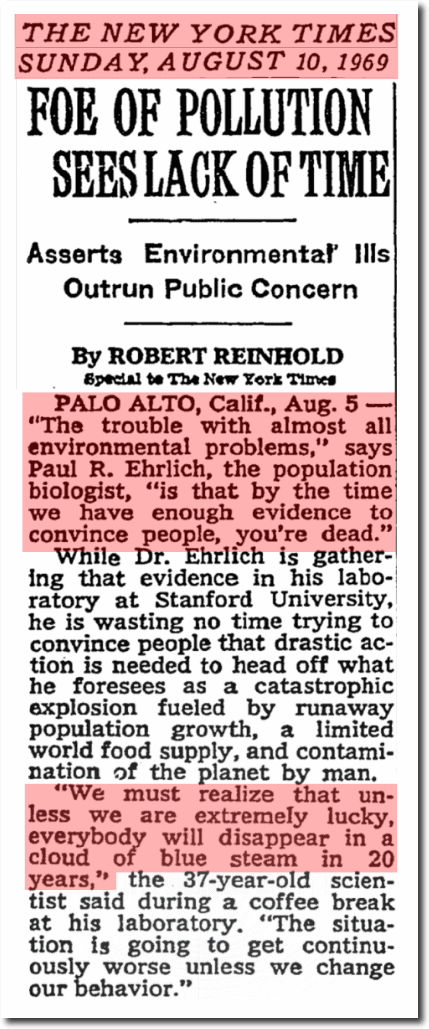 Source: New York Times, August 10 1969
1970: Ice age by 2000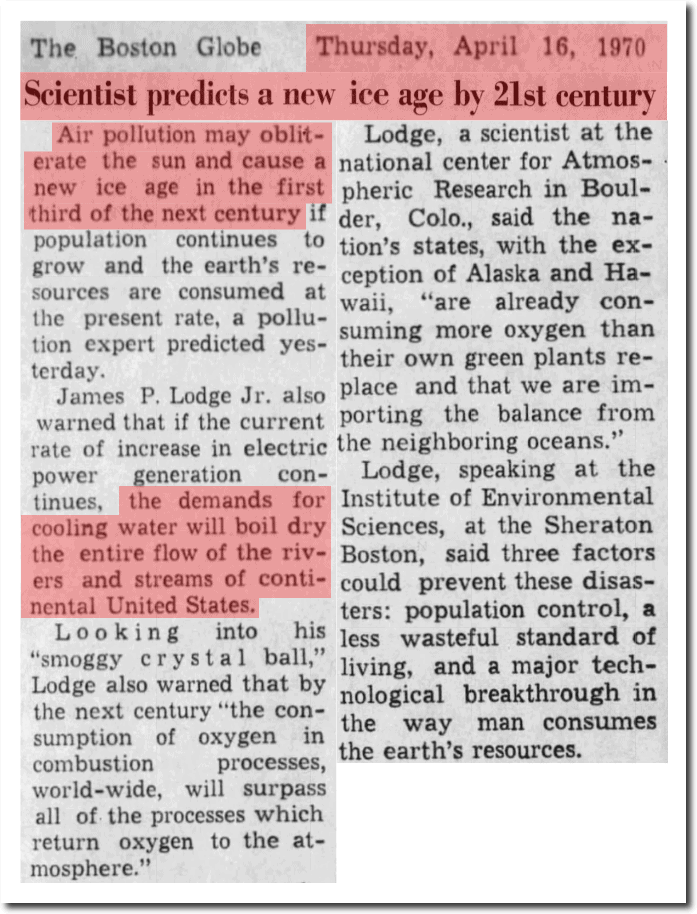 Source: Boston Globe, April 16, 1970
1970: 'America subject to water rationing by 1974 and food rationing by 1980.'
Source: Redlands Daily Facts, October 6, 1970
1971: 'New Ice Age Coming'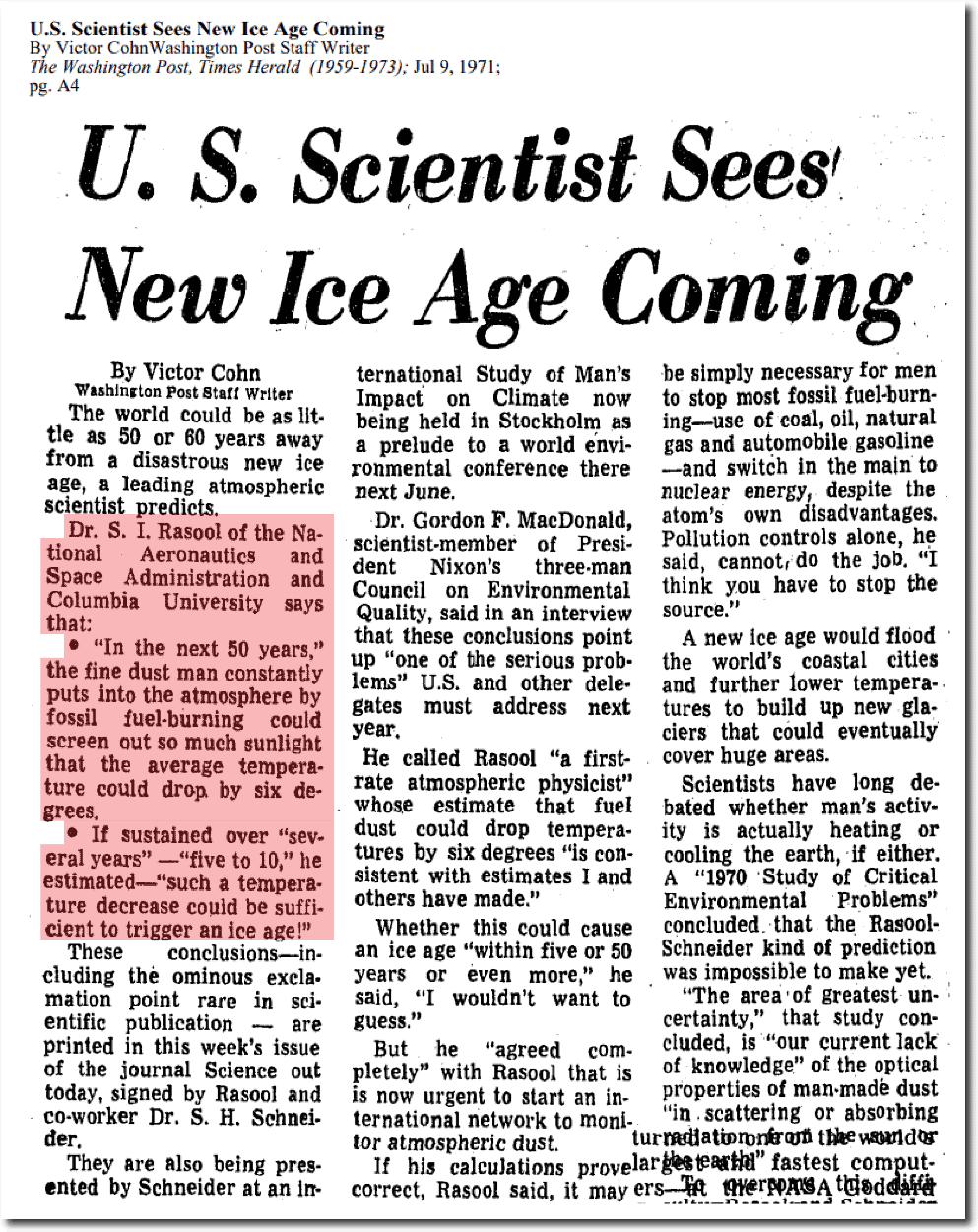 Source: Washington Post, July 9, 1971
1972: New ice age by 2070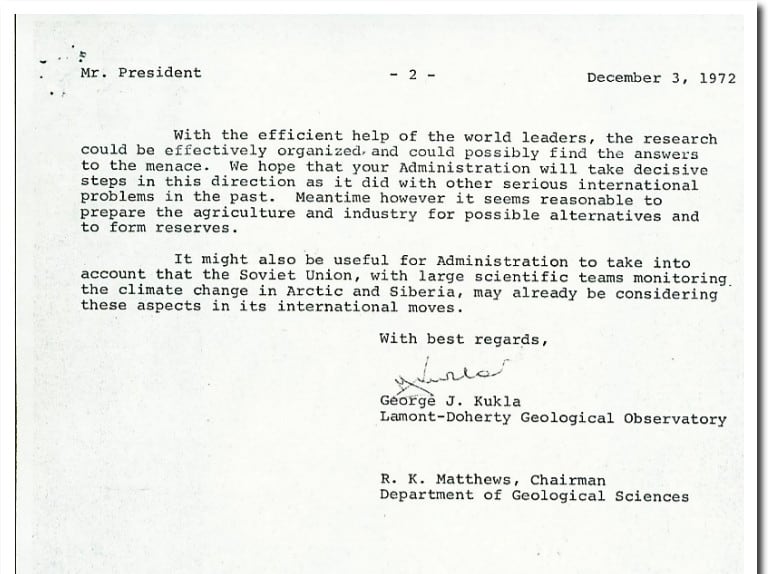 1974: 'New Ice Age Coming Fast'
Source: The Guardian, January 29, 1974
1974: 'Another Ice Age?'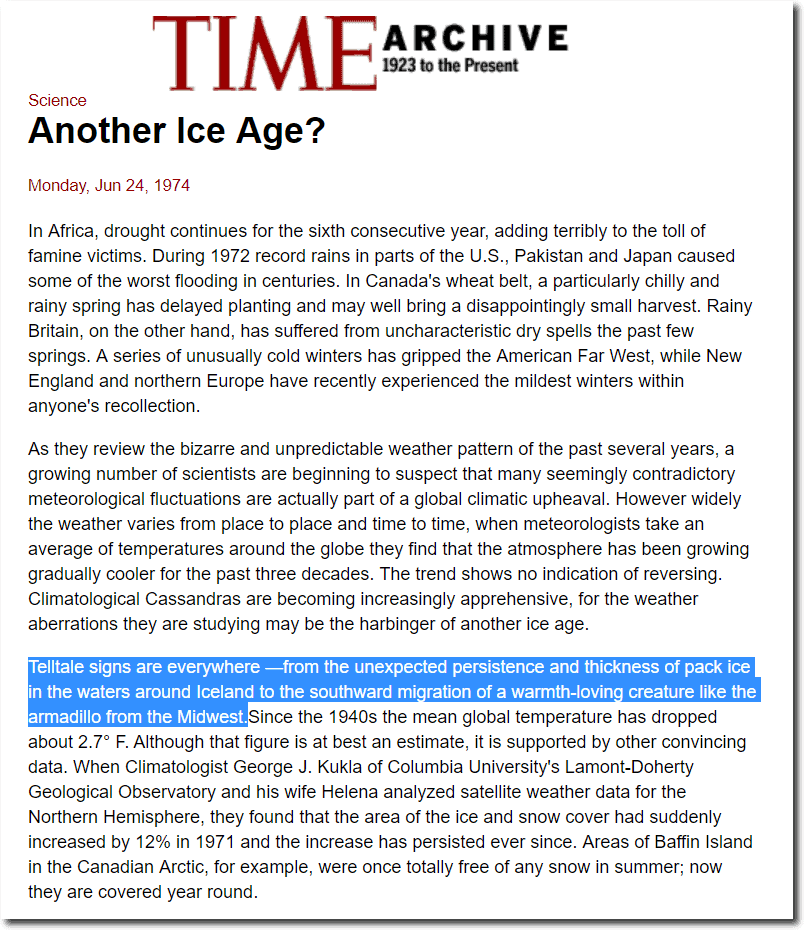 1974: Ozone Depletion a 'Great Peril to Life'
But no such 'great peril to life' has been observed as the so-called 'ozone hole' remains:
Sources: Headline
1976: 'The Cooling'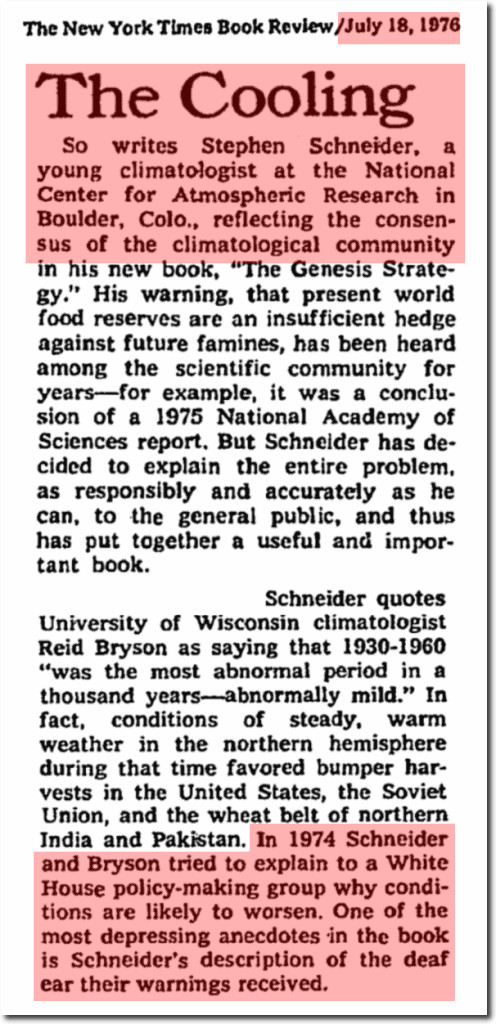 Source: New York Times Book Review, July 18, 1976
1980: 'Acid Rain Kills Life in Lakes'

Noblesville Ledger (Noblesville, IN) April 9, 1980
But 10 years later, the US government program formed to study acid rain concluded:

Associated Press, September 6, 1990
1978: 'No End in Sight' to 30-Year Cooling Trend
Source: New York Times, January 5, 1978
But according to NASA satellite data there is a slight warming trend since 1979.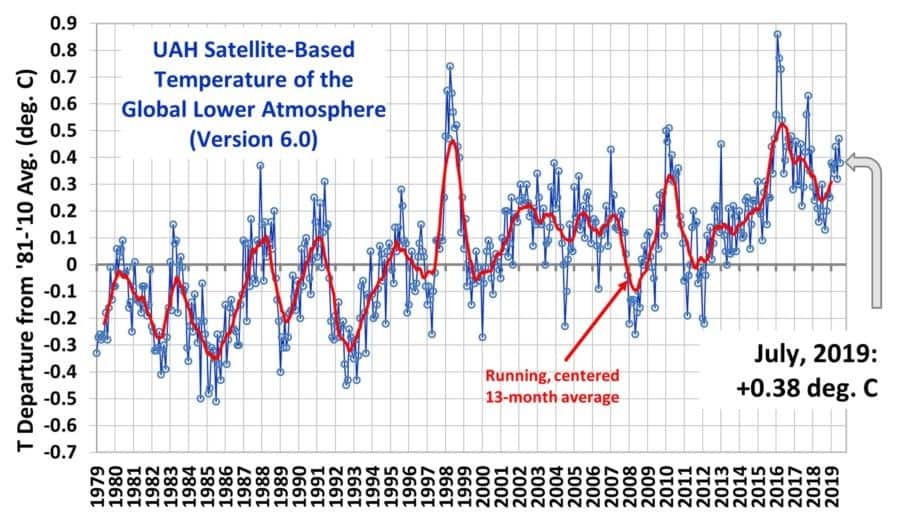 1988: James Hansen forecasts increase regional drought in 1990s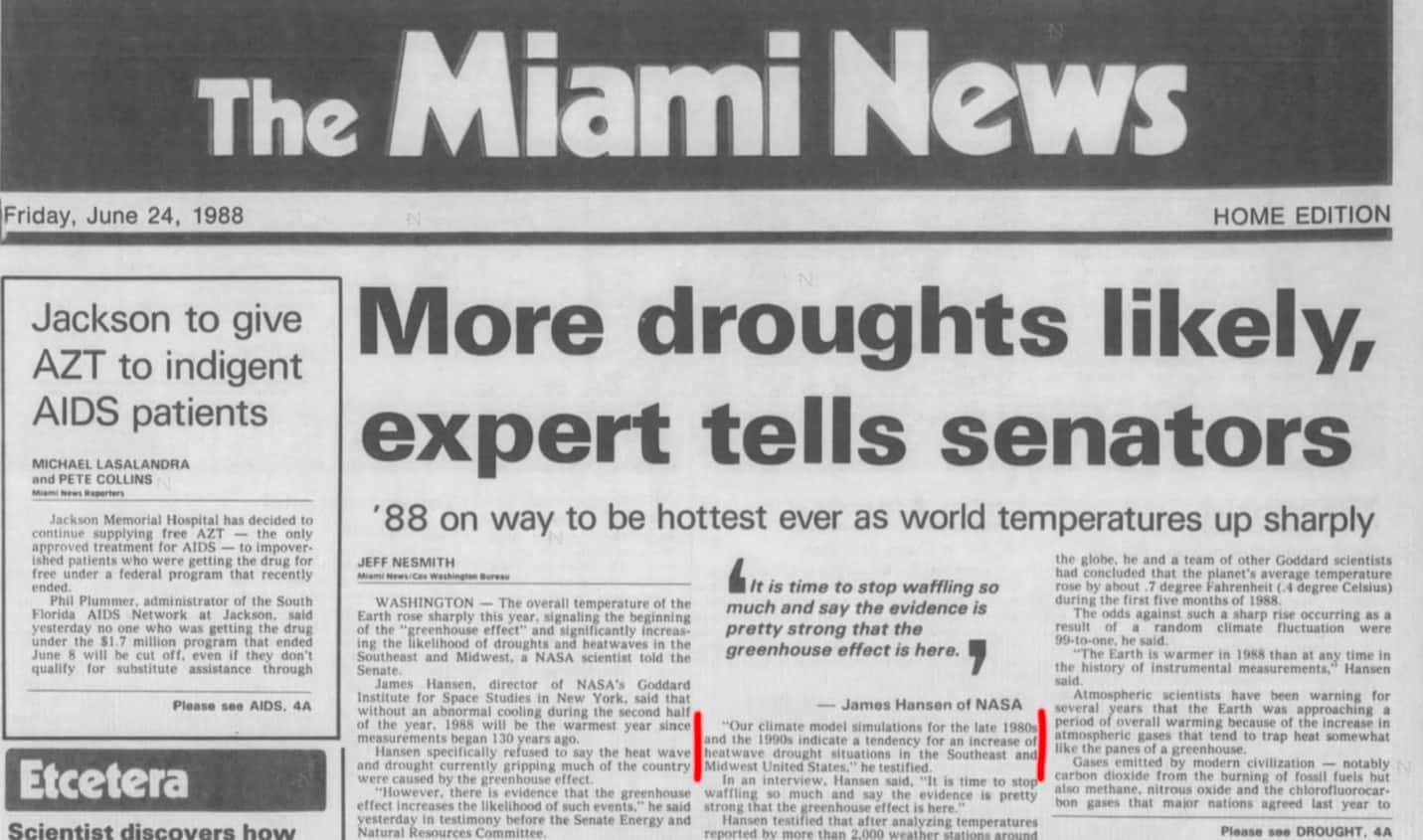 But the last really dry year in the Midwest was 1988, and recent years have been record wet.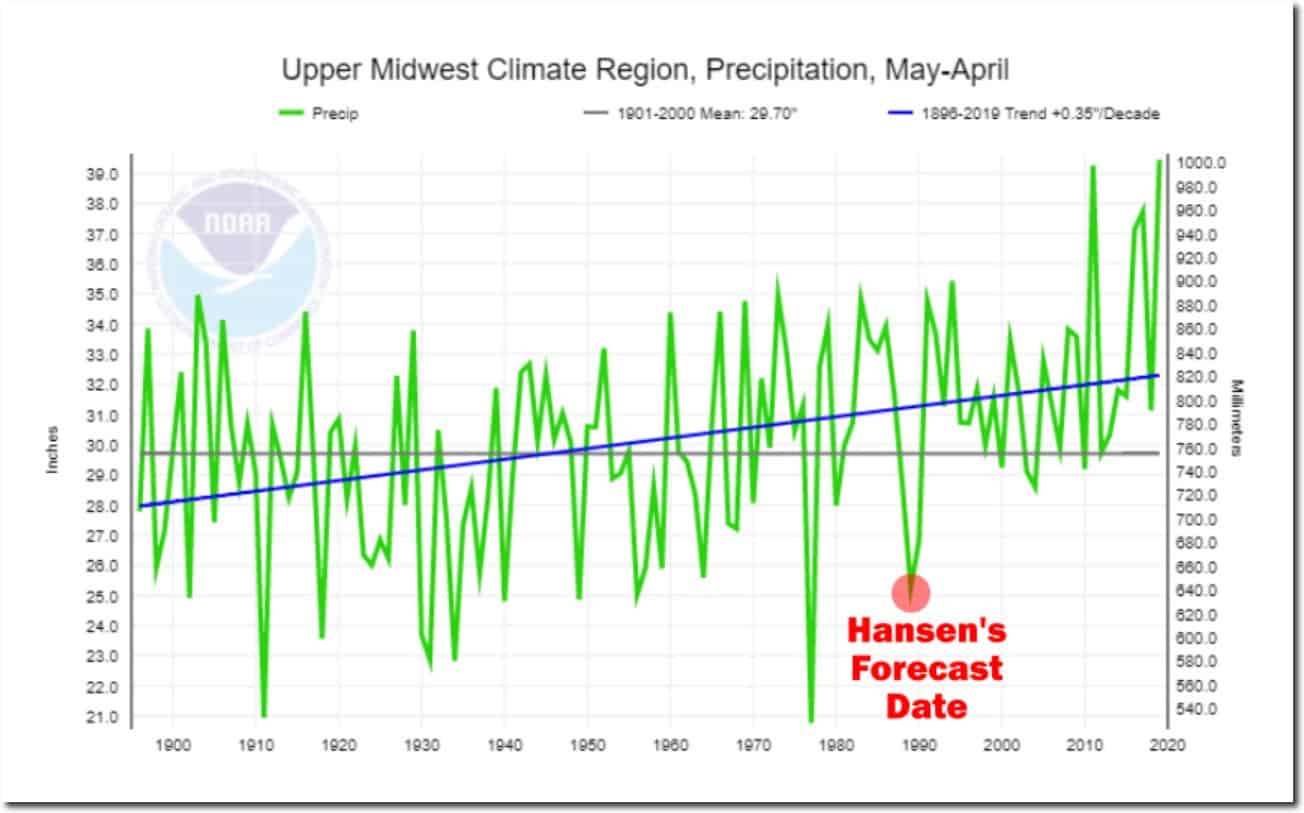 Source: RealClimateScience.com
1988: Washington DC days over 90F to from 35 to 85
But the number of hot days in the DC area peaked in 1911, and have been declining ever since.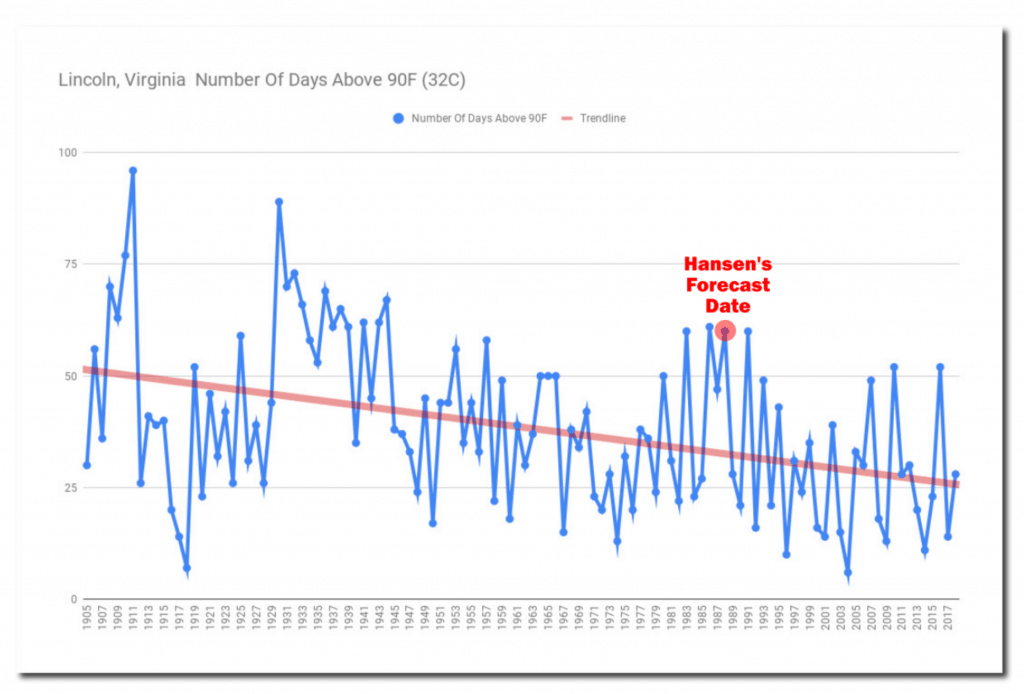 Source: RealClimateScience.com
1988: Maldives completely under water in 30 years
Source: Agence France Press, September 26, 1988
1989: Rising seas to 'obliterate' nations by 2000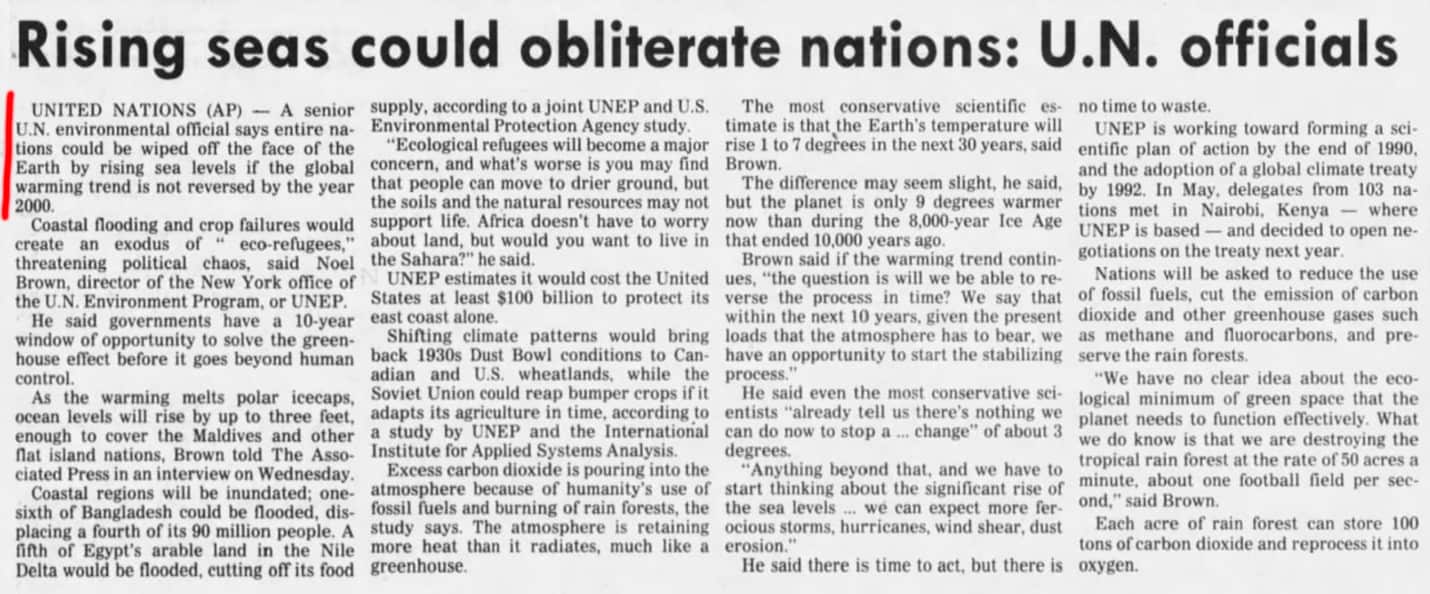 Source: Associated Press, June 30, 1989
1989: New York City's West Side Highway underwater by 2019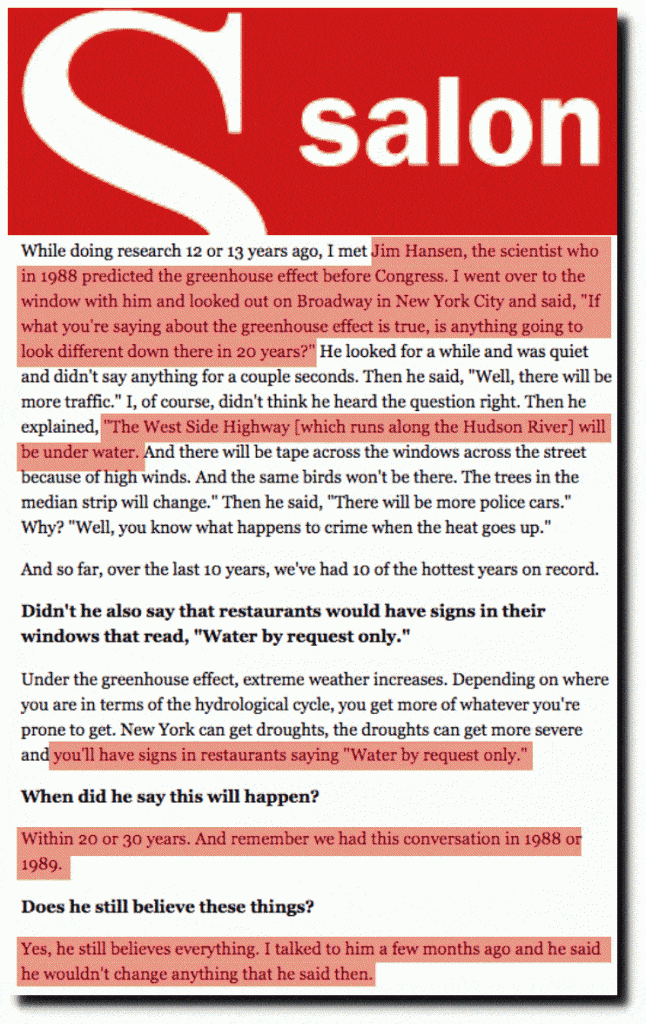 Source: Salon.com, October 23, 2001
1995 to Present: Climate Model Failure
2000: 'Children won't know what snow is.'
Source: The Independent, March 20, 2000
2002: Famine in 10 years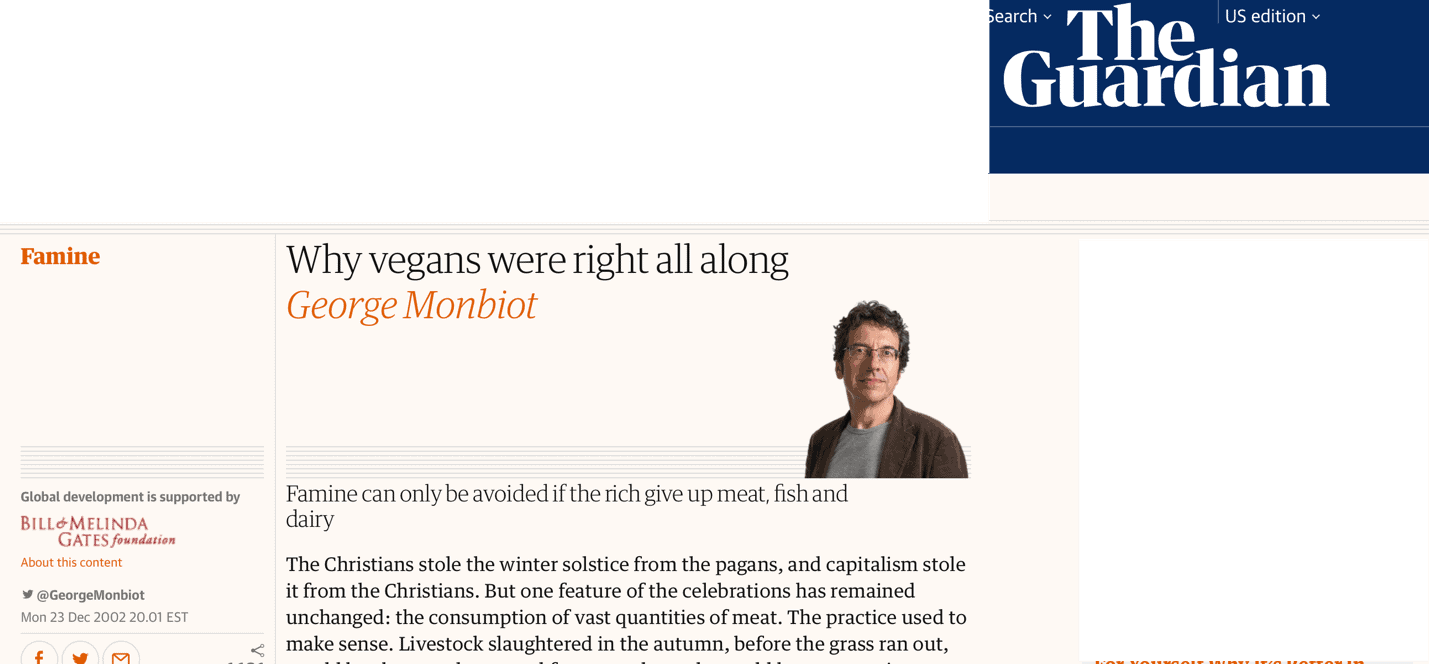 Source: The Guardian, December 23, 2002
2004: Britain to have Siberian climate by 2020
Source: The Guardian, February 21, 2004
2008: Arctic will be ice-free by 2018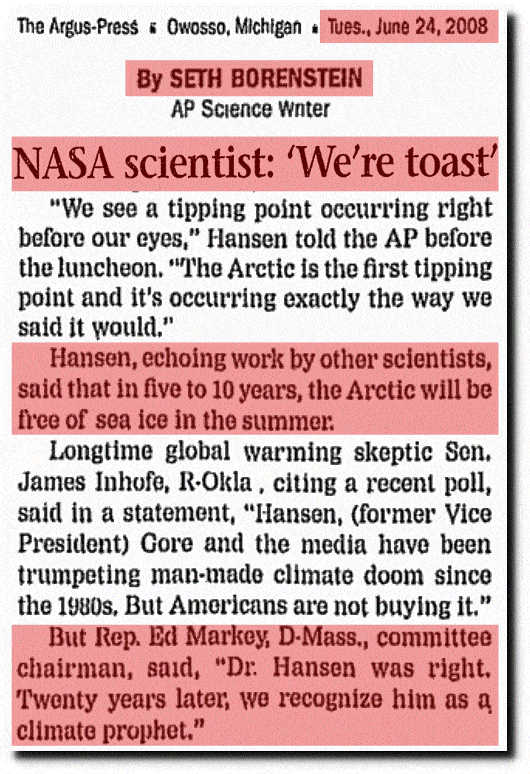 Source: Associated Press, June 24, 2008
2008: Al Gore warns of ice-free Arctic by 2013
But… it's still there:
Source: WattsUpWithThat.com, December 16, 2018
2009: Prince Charles says only 8 years to save the planet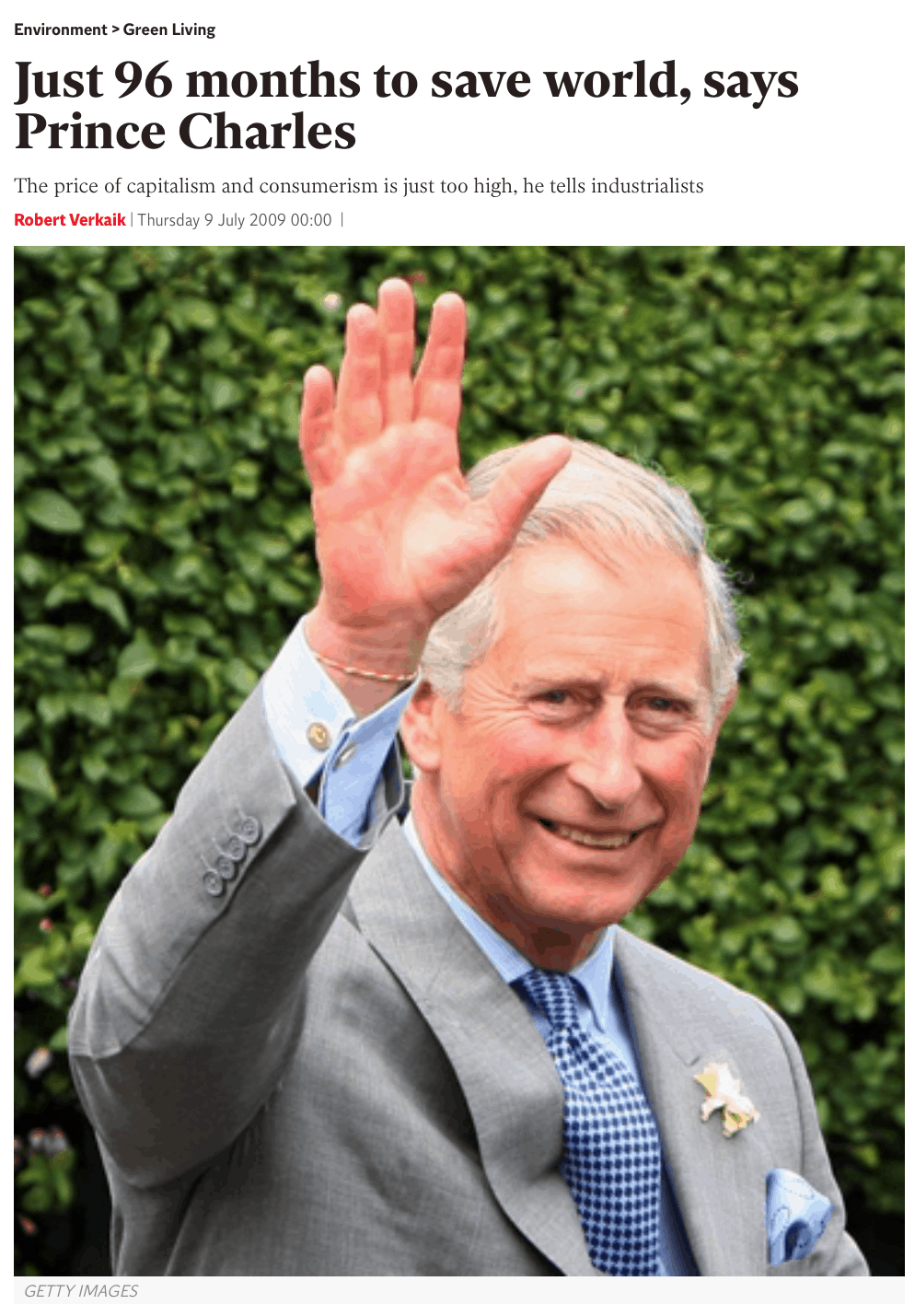 Source: The Independent, July 9, 2009
2009: UK prime minister says 50 days to 'save the planet from catastrophe'

Source: The Independent: October 20, 2009
2009: Arctic ice-free by 2014
Source: USA Today, December 14, 2009
2013: Arctic ice-free by 2015
Source: The Guardian, July 24, 2013
The paper: https://www.nature.com/articles/s41467-017-02550-9 (open access)
Gas hydrate dissociation off Svalbard induced by isostatic rebound rather than global warming
Abstract
Methane seepage from the upper continental slopes of Western Svalbard has previously been attributed to gas hydrate dissociation induced by anthropogenic warming of ambient bottom waters. Here we show that sediment cores drilled off Prins Karls Foreland contain freshwater from dissociating hydrates. However, our modeling indicates that the observed pore water freshening began around 8 ka BP when the rate of isostatic uplift outpaced eustatic sea-level rise. The resultant local shallowing and lowering of hydrostatic pressure forced gas hydrate dissociation and dissolved chloride depletions consistent with our geochemical analysis. Hence, we propose that hydrate dissociation was triggered by postglacial isostatic rebound rather than anthropogenic warming. Furthermore, we show that methane fluxes from dissociating hydrates were considerably smaller than present methane seepage rates implying that gas hydrates were not a major source of methane to the oceans, but rather acted as a dynamic seal, regulating methane release from deep geological reservoirs.
2013: Arctic ice-free by 2016
Source: The Guardian, December 9, 2013
2014: Only 500 days before 'climate chaos'
But…
Links:
Last Step, Martial law will be introduced.
Climate change no offence mend
Pfizer and Data.
Human farm and children
Deep fake a big threat, wat is real?
The Chemtrail mystery?
E.U. Parliament in Action.
Child trafficking.
The silent monetary Revolution.
Two video's, please click on link!
Bill Cooper illuminati people not able to see their enemy. Adam and Eve where prisoners
If they think overpopulation is a problem,why INSIST that everyone get vaccinated to save lives? Why not just let us die naturally? They are contradicting themselves.
Something is wrong.
Same as usual. Biden is more corrupt than Zelensky. How can just 1 man destroy the US/ World?
Bio-terror as a method of government.NASA, would you trust them again after Mars?
The great Awakening & Alien blood users?
"We are the Borg. Resistance is futile. Your race will be assimilated and service to us."

"A Covenant With Death", by Bill Cooper.

The great Awakening, Plandemic 3 Video, please click on link:
The Great Awakening (Full, Unedited Movie) (rumble.com)
rumble.com/v2s0gp8-plandemic-3-the-great-awakening-full-unedited-movie.html